NEIN- nicht nur erfahrene Trias starten bei der MTG Mannheim Triathlon!
Auch Beginner und Neugierige sind jederzeit Willkommen in der Welt des 3- Kampfes. Aber lest selbst den Erfahrungsbericht unseres Grün-Weißen "Rookies" Nico aus Marseille:
"My first triathlon: Sparkassen Triathlon Braunschweig
I am looking at the MTG Trias for a while now and had to find out myself what all this fuss about triathlon was all about. Sunday the 10th of July, I finally pulled the (small) trigger: my first triathlon!. The Sparkassen Triathlon in Braunschweig is a "Jedermann" Sprint distance, 750m swimming, 17.8km cycling and 5km running, organised by the triathlon club Braunschweig and is a very laid-back and welcoming event for beginners, up to liga athletes. The weather conditions were luckily not too warm, although sunny and windy. With a water temperature of 20°C, we could choose to have or have not the wetsuit. Most of us went for it indeed. I felt confident about the swim and came out 7th of my age group. Transition was rather sloppy, but eventually I made it on the bike, ready to grind hard. Everything went well, and I could pass quite a few fellows, until about kilometre 14. The end of the loop was in such a way that we had a perfectly aligned face-wind, and although I tried to maintain the pace I failed to do so. Second transition went smoother, but I directly felt that I invested too much resources in the end of the cycling part. At the last kilometre I wanted to empty everything eventually left in my legs and made a final push to the finish. I was happy to reach the finish line in 1:23,21h as 18th of my age group, and with the MTG logo on my back.
Now I can say: I get it! The next triathlon is already planned, see you at the Summertime Triathlon 2022 in August, and probably more to come?"
HAMMER NICO TRINLER UND HERZLICHEN GLÜCKWUNSCH DICH IN DEN REIHEN DER MTG MANNHEIM TRIATHLETEN WILLKOMMEN ZU HEISSEN!!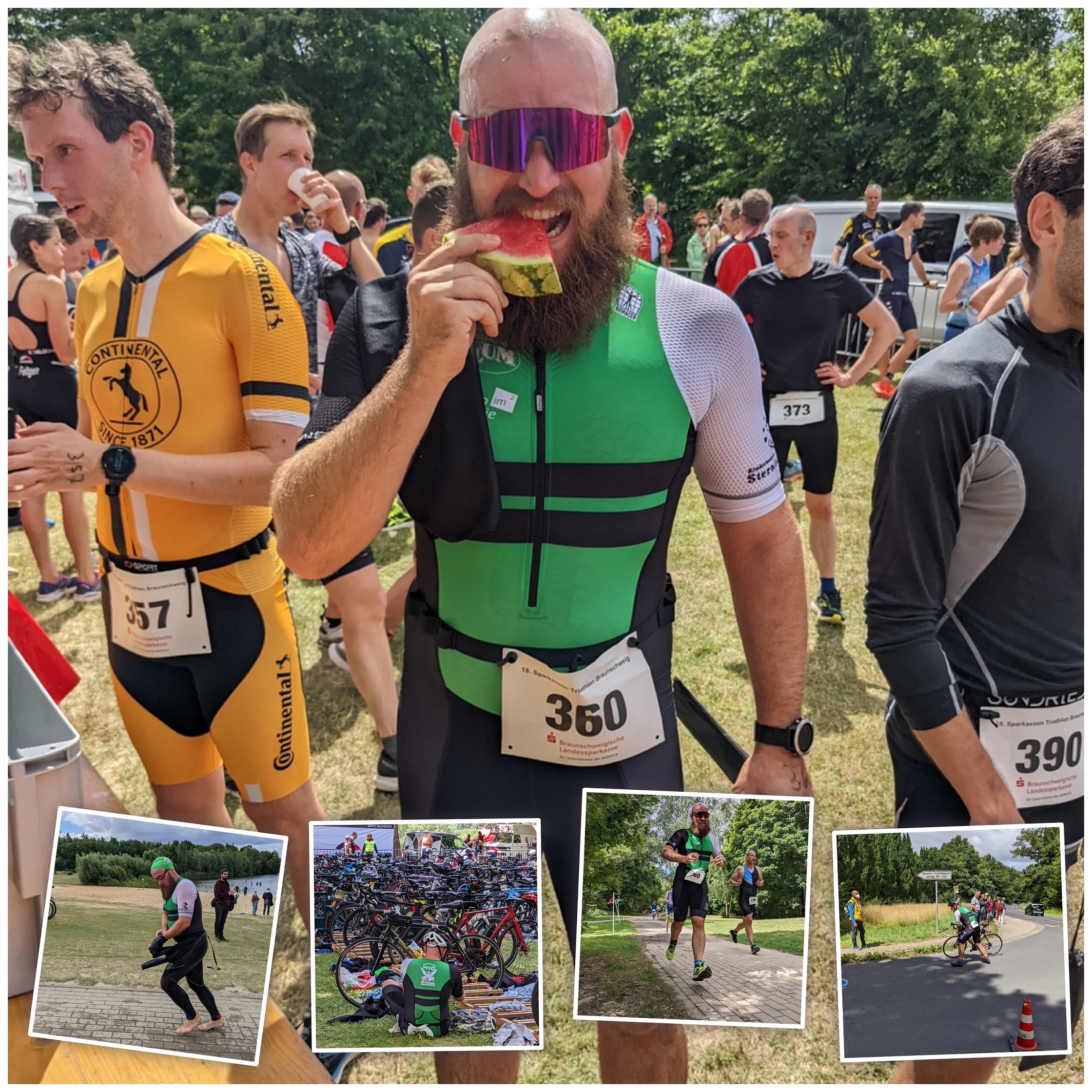 (Nico beisst stolz in ein Stück Wassermelone, schon bald könnte es eine Medaille sein..!)
Results: https://portal.run-timing.de/525/results#2_D6D515
By the way Nico, all: there are a lot of athletes with weaknesses here in the club, so stick with it --> Thank you sooo much for your report!